S2USB485DiagN2 Free N2 Bus Diagnostic Software
(N2 Bus Tester)
Overview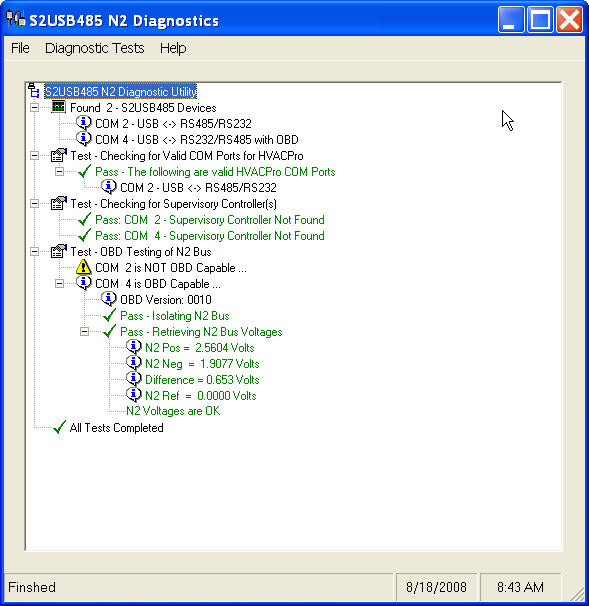 S2USB485DiagN2 is a Windows application that uses our S2USB485 device to perform basic diagnostic tests on your computer and N2 bus. Effectively you can use this software with our S2USB485 device as a N2 Bus Tester. This application is Free to our S2USB485 customers.


Latest Version Released: April 2, 2014

Click Here to Download Latest Version 1.4.5
This is an interim fix to a bug within the Windows installer, where Windows constantly tries to reconfigure S2USB485Diagn2 when you run it. To use this version, uninstall the any previous version via Control-Panel - > Add/remove Programs and then install this version.
Please note that S2USB485DiagN2 requires the latest S2USB485 Drivers to be installed (Ver 2.04.06)
Also, due to a Microsoft Update bug, you may need to completely uninstall your current S2USB485 Drivers before you will be able to install the latest drivers.
S2USB485DiagN2 performs the following diagnostic tests on your computer and N2 Bus:
Finds all attached S2USB485 devices and identifies what COM ports they reside onChecks all found S2USB485 devices and checks to ensure that at least one (1) of the S2USB485 devices is COM port configured correctly for JCI's HVACPro

Checks for Supervisory controllers on the N2 bus(es) which causes problems for JCI's HVACPro and JCI's FX CommPro applications.

With OBD capable S2USB485 devices (devices purchased after July 1, 2008), N2 Bus voltages are measured and displayed. Voltages that are out of range are indicated and possible faults are given.

Ver 1.1.9 Adds S2USB485 Driver Testing

Ver 1.4.3 and .4 (

current version

) adds reporting capability for documentation purposes.
Ver 1.4.5 - Same as 1.4.4 Except Security Signed

Ver 1.5.x (to be released later this year) will include N2 bus scanning and reporting functionality.
Specifications



Part Number:

Operating System Supported:

Windows XP
Windows 2000
Vista (not officially supported)

N2 Bus Interface Device(s) Supported:

Documents: