S2N2D N2 to Douglas Lighting Gateway
This Product has been Obsoleted
A related product (S2BacLightDP) is currently in pre-production and is a complete Douglas WRS-2224 replacement option with a number of additional features including on-board BACNet (MS/TP currently, IP soon), JCI N2 Bus, and Web connectivity. Click here for a link to S2BaclightDP's datasheet. Interested parties can contact our sales department for more details.
Overview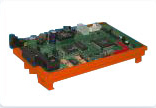 The S2N2D Gateway bridges the connection between the Johnson Controls N2 Network Bus (N2 Bus) and the Douglas Power WRS-2224 Lighting Scanner Network Bus (DP Bus). This device allows Douglas Power WRS-2224 Lighting Scanners (with the WR-ASCII Network Module) to be controlled (individual relays and groups/zones) by the Johnson Controls Metasys system.

The S2N2D Gateway is connected to both the N2 and DP busses with separate connections to each. The S2N2D Gateway appears as a slave to the N2 Bus (N2 VND Device), and simultaneously appears as a master to the DP bus. The actual Douglas Power Lighting Scanners appear as N2 bus slaves to the N2 Bus through the S2N2D gateway. The N2 Addresses of the DP Scanners are the mapped to the addresses selected on the DP WR-ASCII Network Module.

The Douglas Power Scanner's relays and groups/zones appear as Binary Input and Binary Output objects to the Johnson Controls Metasys system. The Johnson Controls Metasys Point Map of the system is given in the S2N2D Data Sheet.
Specifications
Part Number:

Power Requirements:


(Standard) 18 - 24 V AC/DC 60 Hz @ 200 mA


Environment:


Temperature 0 C to +60 C

Humidity: 10 - 95 % RH (non-condensing)


Dimensions:


7.44"L x 3.94"W x 1.75" H
18.9cm L x 10.0cm W x 4.4cm H


Douglas Support:

WRS-2224 with WR-ASCII

Maximum of 15 devices


Mounting Options:


N2 Protocol Support

Devices mapped as VND

N2 Device Objects

24 Relay BIs

5 Group BIs

24 Relay BOs

5 Group BOs


Documents: